By Nathan Teahon, Vice President
We are all only as good as our team. At Quality Contact Solutions, we are extremely lucky to have the best team in the world. One component of our team is the Operations team. In a nutshell, the operations team is responsible for outsourced telemarketing services management.
AJ Windle
Role: Director of Operations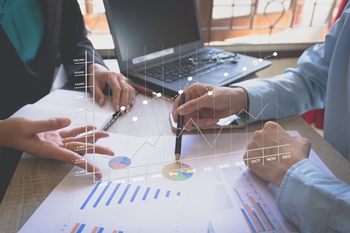 AJ has 15 years in telemarketing services experience. After proving himself as a top sales agent, AJ was a trainer at another call center where I hosted a client visit. AJ did a presentation about his training process and he absolutely rocked it. From that point forward, I knew that I wanted to work with him.
Many promotions and seven years later, AJ was running a facility as a site manager and I was fortunate to recruit him as an Operations Manager for QCS. Since then, AJ has flourished and grown tremendously, progressing to Director of Operations for QCS.
What makes AJ great: AJ is a never ending wave of enthusiasm and positivity that is infectious. His team loves working for him and his calming influence rubs off on those around him.
My favorite article by AJ: There are many great articles that AJ has written over the years, but check out 5 Client Lessons Learned in Telemarketing Services.
Heather Dubas
Role: Senior Operations Manager
Heather has been with QCS since 2014. She used to be in the telemarketing services industry as an Account Manager up until 2004 when she left the industry for 10 years to help run a family business with her husband. Thankfully for us, she yearned to come back to the industry she left a decade earlier.
However, we almost missed each other by days. I had been holding interviews for a couple of weeks and was going to be offering a position to the top candidate on a Monday. On the Sunday prior, Heather reached out to Angela Garfinkel (QCS President) inquiring about the position. I held off offering the position for a day and interviewed Heather on a Tuesday, and it was one of the easiest hiring decisions I have ever made. Within five minutes I knew I was hiring her and she has excelled ever since, starting her journey with QCS as an Operations Manager and earlier this year taking on the role of Senior Operations Manager.
What makes Heather great: Heather is an intense personality in a very good way. Her clients' happiness is the most important thing to her and she attacks every day trying to accomplish that. She also has a natural selling instinct. Ask her about negotiating with a salesman when getting her son a saxophone for band.
My favorite article by Heather: Do This. Use Local Caller ID in Outbound Telemarketing
Ryan Apodac
Role: Operations Manager & Training Leader
My favorite Ryan story has an armadillo in it, but you'll have to ask him about it sometime. It's his story to tell. What I will say is that Ryan has always been an impressive guy, and he was almost a victim of his own success. Ryan was a QCS frontline inside sales rep conducting web demos with customers selling a software package. He was certainly one of the best that has ever done it, and the thought of losing him from that team was very difficult. It is not a stretch to say that Ryan has sold well over a million dollars in software in his career before tackling different challenges, first as a Trainer.
As a Trainer for QCS, Ryan took on new challenges and excelled due to being extremely intelligent, learning new products and campaigns quickly, and being able to effectively pass this knowledge on to others. In 2017, the QCS team tapped Ryan to take on additional responsibilities, changing his role to Operations Manager and Training Leader. To no one's surprise, Ryan has excelled.
What makes Ryan Great: To me, Ryan has excelled because he is hungry to take on new challenges and loves solving puzzles. I have always been impressed with Ryan's ability to learn new things and retain so much knowledge. And clearly, he brings a natural sales ability with him into his experiences managing outbound telemarketing campaigns.
My favorite article by Ryan: Successful B2B Telemarketing Services Starts with Training
Tricia Qvern
Role: Operations Manager
Tricia is the newest member of the QCS Operations team, but she is a seasoned veteran of the telemarketing services industry. In a very short period of time, Tricia has acclimated herself well and hit the ground running. She is a perfect fit for the QCS culture and I dare you to have a conversation with her and not come away with a smile. Tricia also loves antiques and using yogurt in new fascinating ways.
What makes Tricia Great: Passion, passion, and passion. Tricia is a goal oriented person that loves to win. I love how she jumped onto our team and hit the ground running, utilizing her passion to help our clients hit their goals.
My favorite article by Tricia: Why I Love Telemarketing Services.
I am so proud of this team and the growth that I have seen from each of them over the years. While their skillsets vary, I believe each of them perfectly embody what we call Intelligent Urgency. They use this concept as they attack each and every day with a mindset of helping each client achieve their sales and marketing goals through outbound telemarketing.
Nathan Teahon is the Vice President at Quality Contact Solutions, a leading outsourced telemarketing services organization. As a highly competitive person, Nathan brings his 'A' game to work every day, ensuring that each of his clients wins on a daily basis. Nathan carefully balances the operations resources and client goals to ensure his clients receive the highest possible results at the lowest cost. Nathan is a true, born and bred telemarketer. He grew up in the business and intimately knows (and has played) every position on the field, including supervisor, quality assurance, call center manager, program management, account management, and call center psychologist. Nathan can be reached at Nathan.teahon@qualitycontactsolutions.com or 516-656-5133.