Buying commercial roofing appointments from Quality Contact Solutions is a cost-effective way to get you in front of more qualified prospects. From pinpointing the properties that match your services to getting in touch with the right people, finding new commercial roofing jobs can be a daunting task. Start selling, not trying to find to whom you can sell. Let our experienced commercial roofing business development team get you in the door and on the roof to bid and sell!
Success in commercial roofing often revolves around the commercial decision-makers who have you on speed dial as their roofing expert. We specialize in getting you in front of the right people, so you can identify roofing issues, sell jobs and build strong relationships now and in the future.
Every appointment is exclusively set for your company with a pre-qualified decision-maker who buys roofing services and is responsible for awarding re-roofing jobs, roofing repair and maintenance contracts, often for multiple properties.
What is included with our Commercial Roofing Appointments?
Quality Contact Solutions is specialized in helping commercial roofers get qualified sales appointments. We acquire targeted lists in zip codes that meet your service area and then make outbound cold calls to generate interest and set a qualified appointment. QCS helps commercial roofing clients with the biggest problem most companies face while growing their businesses—building and maintaining a consistent sales pipeline. The best way to think of our service is as an outsourced service provider for your sales force. We focus on the front end: database building, prospect identification and qualification, qualified lead nurturing and developing face-to-face sales appointments.
If your business is like most roofing companies, your salespeople don't have time or are not willing to prospect for new business. That's why we spend 100% of our time prospecting for you.
Customers call you for roofing services because you are the experts. Why wouldn't you do the same when it comes to prospecting and roofing contractor appointments?
See what our customers have to say!
Experienced and knowledgeable appointment setters
We don't put just anyone on the phone. At QCS we are proud to have a tried-and-true training program in place that all Business Development Reps must go through before they make their first call. By the time a rep is making calls on behalf of your business, they are experts on topics such as B2B lead generation and our appointment setting methodology. They've even learned cold calling tips and are equipped with call scripts to guide them on appointment setting best practices. We promote a positive environment where the Business Development Reps are encouraged to learn and grow as individuals, all while helping grow your business.
A proven approach to setting qualified commercial roofing appointments
We take a strategic approach and use proven processes to take leads through the prospecting sales funnel and set qualified appointments for your business. We know how to talk to prospects, build relationships, and keep them interested. We send professional communications at the right times to ensure we bring you the high-quality leads that will ultimately help you close more deals.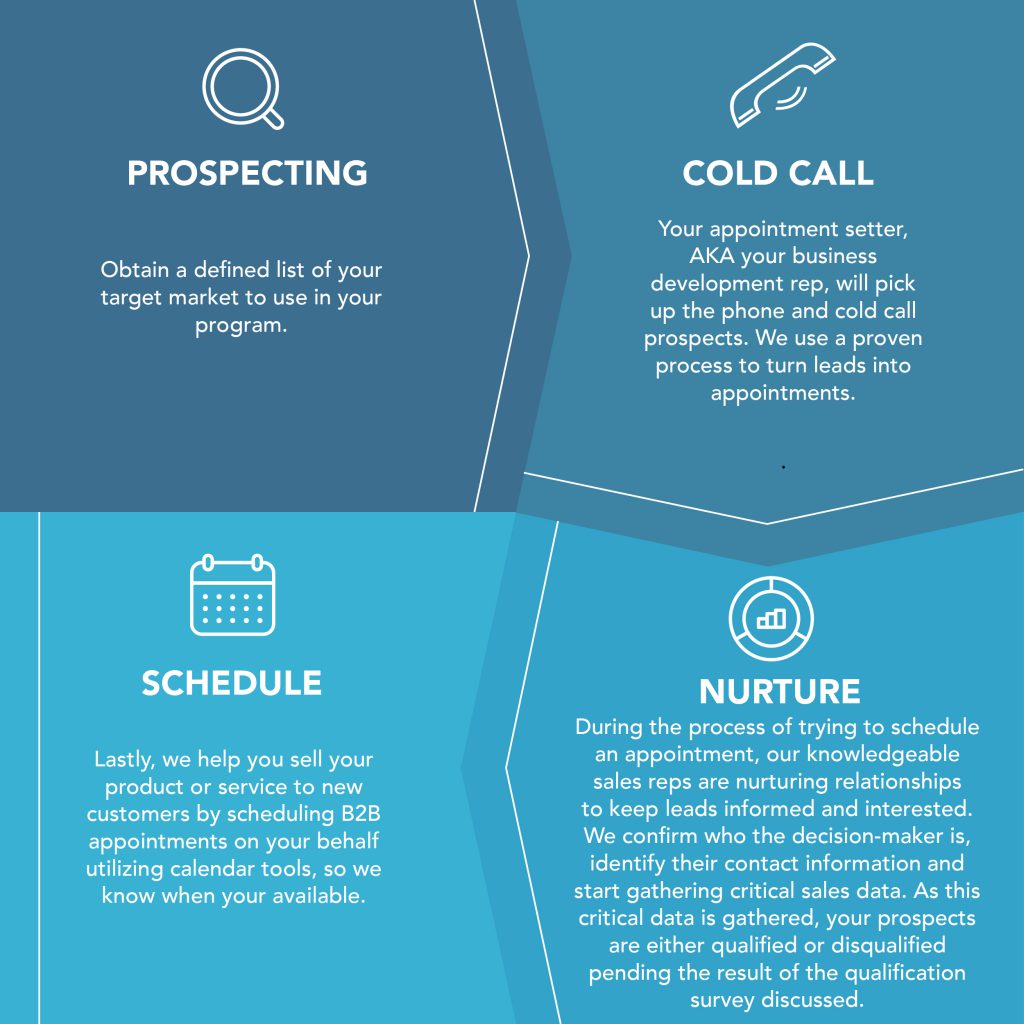 B2B appointment setting is difficult
In the lead generation industry, especially in B2B appointment setting, getting in touch with high-level decision-makers in various organizations can be difficult. The sales cycle on these leads are typically long and require multiple sales calls over several weeks and months. Setting qualified appointments in a B2B market requires talented business development representatives, a solidified process, and cutting-edge tools. Quality Contact Solutions has the B2B appointment setting process figured out, and we've helped all types of businesses across the nation get in front of prospects more efficiently than they can do with their internal resources.
Commercial Roofing Appointments: What will you get?
Face to face meeting with decision-makers
Specific target market area
All commercial, industrial and retail roof types
Types of Opportunities Uncovered in Commercial Roofing Appointments
Re-roofing
Repairs
Coating applications
Maintenance contracts
Meet and greet appointments
Inspections
What are the key reasons to use Quality Contact Solutions?
Exclusive appointments – we don't sell the appointment to anyone else!
Emailed confirmation to prospects of scheduled date/time
Dedicated, experienced team
Weekly and monthly communication to ensure you have visibility and transparency
High-quality results
Guaranteed face-to-face meetings
No long-term contract required
Still not convinced? Here are more reasons why the QCS team is best for setting commercial roofing appointments:
It takes 100's of calls to find a good solid appointment. That's what we do for you.
One of the hardest things is getting past the gatekeeper and in front of someone that is part of the decision-making process. We will remove that hardship. We will dial until we find the right prospect that meets the program requirements.
During the sales process, our experts introduce your company, explain the program and get approval from a decision-maker for an appointment. We also overcome common myths, misinformation, and unrealistic expectations. Our goal is to develop a winning program for you that will create value long term.
We help your team replace some of the hustle, to make your jobs more profitable. What we do is a very competitive market and it's not easy, that's why we must be the best!
Your marketing dollars are put hard at work. There are many ways you can market your business. An average roofing lead can very easily exceed $500 just for the lead using different marketing methods and often only 25-50% of the lead are even qualified. That makes your cost per qualified lead as high as $750 to $1000.
Many of our clients tell us they have tried to use digital marketing and Google Adwords – the cost per lead can add up quickly, eating up your marketing dollars and not resulting in a face-face appointment.
We market your business by calling for you, scheduling that face-to-face meeting, getting your foot in the door, up on the roof, so you the expert can help the prospective buyer. On average this can take hundreds of phone calls to find the right prospect for you.
Our teams of experts are excellent at what they do – but we aren't magicians – and the best way to approach marketing is consistent, over the long-term.
How many appointments will you get, and how quickly will you get them?
That will depend on your goals, your budget, the number of available prospects in your target market and a number of factors.
Follow these simple steps to get started
Call us at 855-857-9350
Together, we will establish the number of appointments you'd like each month
We'll help sync your calendar with ours so you'll have appointments scheduled in real-time while avoiding  conflicts with scheduling
Provide your target market
Coordinate the startup with our operations team
Then sit back, relax and reap the rewards!
Any commercial roofer knows that sourcing new leads for roofing jobs can be arduous, stressful and frustrating. From pinpointing the properties that match your services to getting in touch with the right people, finding new commercial roofing jobs can be hard work.
Work with QCS to generate a consistent flow of qualified sales leads for Commercial Roofing!
Are you a Contractor?
We know how difficult it is to maintain a constant flow of business during slow times. We can set up a program to keep the flow of revenue coming in. No long-term commitments.
The roofing industry is highly competitive, seasonal and dependent on the weather. Because of this, most of a company's revenue is generated over a few months, rather than consistently throughout the year. Due to the absence of predictable revenue streams, roofing services face a number of unique business challenges, the most troublesome being employee turnover or layoffs from not having enough work in slow seasons.
The most talented staff members in the industry want to make sure they have consistent work hours and a steady income. To provide them with this, you need to be able to scale your business upward and generate new, consistent revenue channels.
To be able to compete, most owners and managers are bidding new projects and doing the work themselves. Because there's no time to do anything but bid or complete jobs, along with other tasks associated with running a business, there's no time to build a significant sales pipeline. Without a developed strategy and a successful sales pipeline, businesses are left with unqualified leads and wasted time and money.
QCS helps overcome these hurdles by working our process while you're taking care of customers and running your business. We generate roofing appointments by partnering with you to identify prospects in your market. When they're ready, we schedule your commercial roofing appointments with these key decision-makers.
Are you a Coater?
We can set up a program for you to obtain appointments on flat, low or loped roofs. You can set the size specifications. No long-term commitments. Customization of the script to discuss coating materials, your expertise with this material will be shared on each call!
Are you a Roofing Material Manufacturer?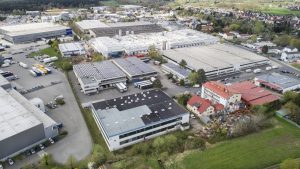 Have you thought about providing appointments to your roofing partners to help increase your growth?
Let's work together to design a program to introduce your products. With our inbound and outbound program, it's a perfect way to spend marketing dollars. When a prospect needs some information prior to making the decision to have someone come out, we will send them your supplied marketing materials. It's the perfect way to increase visibility along with building relationships with your partners.
Are you a Solar Company?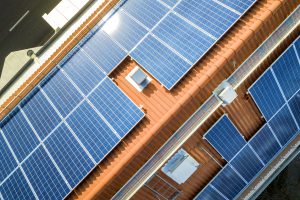 We don't write just warm leads; we write face-to-face appointments with commercial property owners or even property management companies.
Supercharge your solar business, with our targeted high-quality solar appointment leads.
QCS prides itself on getting you the leads you want; in the cities you want – that is going to close. If you are like most solar companies you spend thousands of dollars on a lot of wasted marketing efforts like SEO, social media marketing, flyers, events and more. With QCS, you can just focus on sales for your business and let us worry about the marketing end. This will increase your efficiency and allow you to grow your profits much faster.
Don't spend thousands of dollars on SEO services and other marketing services that go nowhere. Work with us and pay for what you really want – which is the interested customer ready to buy solar panels today. You'll grow your profits much sooner and with a lot less headache than doing the marketing yourself.
Do you need a customized program to meet your specific goals?
We can accommodate special requests and we will set up a customized program to meet your needs.
QCS will work with you to determine the type of commercial program you need

Specific roof types to exclude
Coating
Size restrictions

QCS will work with you to determine a specific target market area
QCS will work with you to discuss your special requirements