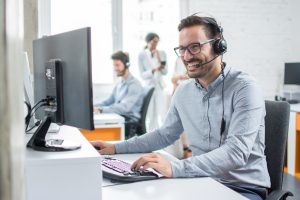 Quality Contact Solutions is an industry leader in telemarketing services and a PCI Certified Level 1 service provider. We have a proven track record for success. With Telemarketing as a core competency, we understand that there are several factors that contribute to successfully outsourcing part or all of your business. With expertise in B2B Outsourced Telemarketing, B2C Outsourced Telemarketing, TCPA Call Center Consulting and Outsourced Telemarketing QA, the team at Quality Contact Solutions has your back. Acting as an extension of your team, we commit to dedicate the time and resources necessary to deliver results.
There are many types of telemarketing services.  QCS has expertise in the following types of telemarketing services campaigns:
Business to Business, also known as B2B telemarketing services:
Business to Consumer, also known as B2C telemarketing services:
The most important factor to consider when evaluating a potential telemarketing services provider is the cultural fit between your organization and the potential provider.  If there is a fit between how you conduct business and how the provider conducts business on a daily basis, the details of telemarketing service delivery can be easily worked out.  Learn more about Finding a B2B Call Center.