By AJ Windle, Director of Operations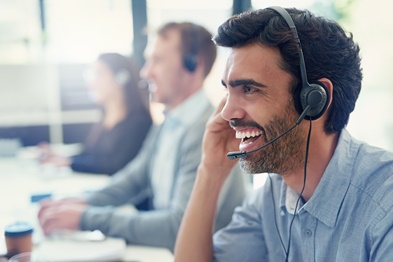 So, you've started looking for a third party call center services company to assist you with handling your inbound customer service needs. What, exactly are you looking for? What is most important to you? What are you hoping this external team will help you support?
There are many third-party call center services companies (also known as inbound telemarketing firms) to choose from and the array of options can be overwhelming. However, if you approach the process like buying a new car, you'll find that getting from the research stage to a successful launch will be easier if you know what you're looking for from the beginning.
Using the "buying a new car" analogy, there are hundreds of makes and models to choose from. Each will get you from point A to point B but not every car will have meet your specific requirements if you look closely and carefully evaluate the option. Both large and small differences will make all the difference as you select the right car for you.
Let's take a look at some of the key components you should look at when selecting an Inbound Call Center Services firm.



Skill Set of the Third-Party Call Center Services Firm
Just like cars, not all third-party call center services firms are created equal. You're not going to buy a Ferrari to haul building materials, so why would you hire an inbound technical support team to handle your inbound sales calls? When choosing third party call center services to assist with your inbound needs you need to know what they are good at. Does inbound make up the vast majority of their work or is it a small subset. You want to work with a firm that has experience in what you are looking to accomplish.
What type of inbound services do they perform? Do they focus on inbound support, are there sales involved, has their primary business been chat or technical support? Pick a facility that that has experience in the purpose of the program you are looking for. Inexperienced call center services firms may be hungry, but your program will suffer through a learning curve with the staff.

Technology Options at Third Party Call Center Services Firms
Just like skillset, having the right technology for both inbound telemarketing and outbound call programs is crucial. It is extremely important to understand what technology is being used and what can be implemented in the future to improve the program efficiencies and the customer experience.
Here are a few that top my list of "must have technology options" for a successful inbound telemarketing services program:
Robust IVR and ability for multiple queues – This is a must. Having the ability to build a robust IVR tree will allow you more flexibility within the future to further service your customers with more specificity.If your program requires a more 360-degree customer support option, then you are going to want to make these options available to your customers through your one-stop IVR system. For instance, you may need a sales team who doesn't deal with technical issues. You then have a technical support team who doesn't sell or doesn't answer general customer service questions. Because, many teams have experts for different customer issues it is important to make sure you can provide an easy method for your customers to access those experts.
Skill-based routing – This ability allows you to prioritize specific calls to specific agents. This is extremely important as there will always be leaders of the pack who emerge, and you will want to make sure you are utilizing those leaders as effectively as possible.
Real-time Reporting – This may seem like a no brainer however there are quite a few third-party call center solutions out there who do not have the ability for the supervisors managing the program to see real-time stats of the front-line troops. Stats such as Average Speed of Answer, Average Speed to Abandon, Agent Utilization and calls in queue

Scalability of the Third-Party Call Center Services Firm
Alright, you've identified a great company who has the skill set and the technology you need in order to perform successfully on your program. This is great however you need to consider if the company can scale to meet your growth goals. Great success can create the need for growth and it is important that you are contracting with a company that has the ability to scale with your organization as you grow.
Does the chosen third-party call center services firm have more locations to expand to? Do they have an option on their existing location's lease to add more seats? Is the labor pool large enough to recruit enough staff?
Selecting the correct third-party call center service to provide inbound support can be difficult however we are here to help. If you are a company looking for a telemarketing firm who can provide inbound support and help you reach your goals, give us a call at 1-866-963-2889 and press 1 for sales. Or email me at [email protected]
Related Reading:
How to Find an Inbound Telemarketing Service Call Center
Reasons to Blend Inbound and Outbound Telemarketing Services
Top 5 KPIs to Watch with Inbound Telemarketing Services



A.J. Windle is the Director of Operations of Quality Contact Solutions. A.J. is responsible for ensuring every client program is successful on a daily basis, including achieving the Key Performance Indicators (KPIs) that matter most. With a deep call center operations background, A.J. is a hands-on leader and has built his career on creating win-win-win relationships for his team, his clients and the owner-operated call centers he is responsible for. A.J. loves to keep score and he is proud of his team's scoreboard. A.J. knows that great leaders find a way to make sure their team wins. A.J can be reached at [email protected] or 516-656-5106.