By A.J. Windle, Director of Operations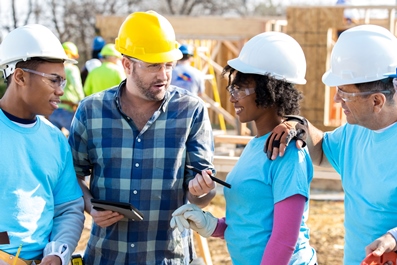 The most important part of building a home that you know will last forever is making sure that you have built that home on a strong foundation. The foundation is what holds your house up, it's what makes your home steady and strong. Our foundation here at Quality Contact Solutions is unbreakable and every person plays a pivotal role in making sure that we are successful in the outbound telemarketing world.
B2B telemarketing is something here at QCS we thrive at. Our At-Home outbound telemarketing team has been successfully running B2B telemarketing campaigns for more than 8 years and I believe that having an amazing team is the foundation of that success. Let's take a look at some of our key management players who help our at-home team win everyday!
Marcia Jenkins
Role: Senior Operations Manager
I've had the pleasure of working with Marcia over the course of the last 8 years and she is an absolute sales management machine. In fact, before working at Quality Contact Solutions, we both worked at a different company at two different locations for many years and would often run B2B telemarketing sales competitions against one another with a little wager on the line — winner buys the other team's dinner. Needless to say her team loved pizza and I bought a lot of it.
Marcia's natural ability to lead and motivate a sales team is mesmerizing and I am so thankful to have her running our At-Home call center team. She works hard everyday and has an innate ability to always know what levers to pull to maximize our results for clients.
What makes Marcia great: Marcia has sales running through her veins. She doesn't beat around the bush and I love that you can always count on her to shoot it to you straight. That being said she is one of the funniest people I have met in my entire life and has left me absolutely rolling on many occasions. Having fun and humor combined with her open honesty allows her to gain the respect of any team she works with.
Marcia's Top Strengths: Achiever, Relator, Competitiveness, Positivity, and Responsibility.
My favorite article by Marcia: The Secret to Retaining Your Best Telemarketing Services Sales Reps
Shannon Svasek
Role: Operations Manager
Shannon has more than 15 years of experience in outbound telemarketing and sales. She is a great leader, innovative and passionate. She is an incentive creating wizard and has the most amazing life stories to relate to every situation. I'm pretty sure cloning isn't legal but if I could get away with it I would do it.
In her B2B Telemarketing career, Shannon has done it all including trainer, supervisor, program manager and now Operations Manager for our B2B telemarketing software sales team. Shannon worked as a front line sales agent selling software through web demonstrations. She excelled faster than anyone I've seen before and quickly was put in charge of growing and creating a sales team that has become a staple for helping our team (and our clients) achieve their annual sales goals. Shannon's clients love her and so do we.
What makes Shannon great: What I most admire about Shannon is her decisiveness. She finds out what's creating an issue, strategizes how to fix it and then immediately executes on her plan to solve the problem. She wastes zero time in getting things done and is always looking out for her team.
Shannon's Top Strengths: Communication, Strategist, Relator, Includer and Command
My favorite article by Shannon: How to Have Fun in Inbound and Outbound Telemarketing
Jeri Graesser
Role: Supervisor
I am always impressed with Jeri's thoroughness and attention to detail. Jeri is a veteran supervisor with more than 15 years of experience in the outbound telemarketing industry. Through that time she has managed a variety of B2B Telemarketing programs and always manages to keep her team performing successfully.
I remember meeting Jeri for the first time. It always impressed me how she would engage with her team on a daily basis. While she is analytical, Jeri is always communicating with her team on current stats in relation to their goal and driving the metrics the team needs to move the needle.
What makes Jeri great: There are many things that make Jeri great at what she does. However one of the things I feel matters most is her attention to detail and her organization. As a supervisor on a fast-paced sales program with endless amounts of changing information, being organized is critical to making sure the team is kept up to speed on all changes. Jeri is methodical when it comes to updating her team on new information and always keeping them in the know.
Jeri's Top Strengths: Analytical, Consistency, Learner, Relator and Activator.
Melissa Werth
Role: Supervisor
Melissa is a rising star at QCS. Including her years of experience with QCS and other previous roles, Melissa has more than 10 years in customers service experience. She has held roles as a front line agent and supervisor giving her the knowledge to know what works best on the phones. She is passionate about helping people and that shows through in everything that she does for her team and customers.
Not only is Melissa great at helping her team, she also has been recognized on several occasions for her great service that she provides to our clients. Many clients have said how well she represents their organization and how lucky they are to have her working with them.
What makes Melissa great: What has impressed me most about Melissa over the course of the years is her ability to learn quickly, retain and pass knowledge to her team. I know that if we go over something with Melissa she is going to understand it very quickly and be able to translate that to her team. I also love her positive attitude.
Melissa's Top Strengths: Empathy, Developer, Includer, Positivity and Learner.
B2B telemarketing isn't easy, however, with the right team in place you can be successful and have fun while doing it. A strong team shows diversity in it's strengths and relies on each others abilities to maximize results. Our At-Home team has shown this to be a critical part of our success and I am thankful to call these people my team. If you're looking for a strong team that can help you reach your outbound telemarketing goals give us a call at 1-800-255-0099. Or email me at aj.windle@qualitycontactsolutions.com.
A.J. Windle is the Director of Operations of Quality Contact Solutions. A.J. is responsible for ensuring every client program is successful on a daily basis, including achieving the Key Performance Indicators (KPIs) that matter most. With a deep call center operations background, A.J. is a hands-on leader and has built his career on creating win-win-win relationships for his team, his clients and the owner-operated call centers he is responsible for. A.J. loves to keep score and he is proud of his team's scoreboard. A.J. knows that great leaders find a way to make sure their team wins. A.J can be reached at aj.windle@qualitycontactsolutions.com or 516-656-5106.