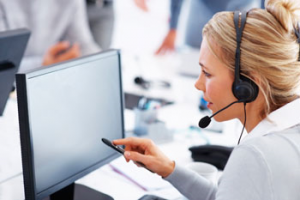 Outsourced Telemarketing QA is often best accomplished through using a professional outsourced telemarketing QA vendor.  Whether you need help with telemarketing quality assurance outsourcing, best practices for your own quality monitoring program, or need help with choosing the appropriate model for your company, the outsourced telemarketing quality assurance experts at Quality Contact Solutions can help.
Your brand is everything. It is essential to provide exceptional quality with all customer interactions. One of the best ways to uphold your brand's reputation is to ensure excellence through consistency in customer-facing interactions. Sales conversations, customer service, and technical support discussions should be reviewed to make sure the standards are being met while providing a superior customer experience.
Quality Contact Solutions is your trusted partner. We are committed to designing an outsourced telemarketing quality assurance program that evaluates the attributes that best supports your overall success.
We provide outsourced telemarketing QA to make sure that your front lines are representing your products and services accurately, addressing concerns as appropriate and are consistently meeting or exceeding your customers' expectations.
Benefits of outsourced telemarketing quality assurance:
Reduces customer turn over
Drives customer retention
Easily identify key attributes of successful team members
Identify key strengths and weaknesses in customer interactions allowing to tailor training opportunities.
Consistency in the quality assurance experience
Keep your business compliant with business or industry standards
Gain meaningful insights from customers
Successful QA programs are best with consistency. Let the team of seasoned professionals at Quality Contact Solutions support the ongoing need for your outsourced telemarketing QA requirements.