By  A.J. Windle, Director of Operations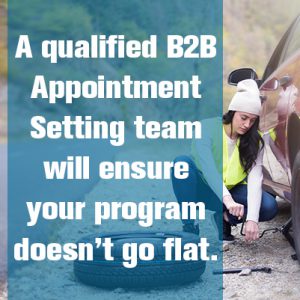 Have you ever changed a tire? Seems pretty easy when you say it, but have you ever thought about how much work goes into something so simple? First you have to brave the weather and if you live where I do that could be a lot of work in itself. Then you have to make sure you have the right tools to do the job. You'll need a jack for the car, potentially gloves and a spare tire. You have to jack up the car, take off the lug nuts, pull the tire off, put the new tire on, tighten the lug nuts, release the jack and put everything back. What seemed simple is much more complex.
B2B appointment setting is very similar. It seems easy at first glance. However, if misjudge the task as easy, then you will most certainly be disappointed. At Quality Contact Solutions we are experts at B2B appointment setting and here are a few items you'll need to keep in mind to make sure your B2B appointment setting program doesn't go flat.
Have the Right Tools
Lists – Great b2b appointment setting starts here. Invest substantial time and money into selecting the right demographic target your team will be calling. Anyone who isn't your target audience is a waste of time and money.
Technology – Sure you're calling people to schedule an appointment but that's not all. Consider these questions when conducting b2b appointment setting:

How are you scheduling the appointment (CRM or data capture through a dialer)?
How are the agents viewing open times on the sales team's calendar?
Are you sending an invite to the prospect and what system are you using for this?
Do you have a reminder system set-up to reduce No Show rates?
How are you handling Inbound calls?
What is your Caller ID strategy?

Team – After you've purchased the right list and you have all the right technology in place you now need the right team. B2B appointment setting is difficult and probably the main obstacle your team will run into is their ability to get in contact with key decision makers. For this reason, not everyone makes a great appointment setter. You need:

Experienced b2b appointment setting agents and managers with a track record of success.
Conversational Experts
People who don't mind objection
Dynamically quick thinkers
Technology savvy team members and
Multi-taskers
QCS has been doing b2b appointment setting for many years and we have become experts in what it takes to provide high-quality b2b appointments. Whether you are looking to increase appointment volume, quality or are starting a new b2b appointment setting campaign, give us a call at 1-800-963-2889 and press 1 for sales. Or email me at [email protected] We'd love to help!
Other Articles You Might Find Interesting:
B2B Telemarketing Lead Gen Scripts in Technical Industries
Telemarketing Appointment Setting Testing, Testing, 1…2…3
B2B Appointment Setting: The tightrope balancing act
Telemarketing Appointment Setting Best Practices Part 1
Telemarketing Appointment Setting Best Practices Part 2
Telemarketing Appointment Setting Best Practices Part 3
A.J. Windle is the Director of Operations of Quality Contact Solutions. A.J. is responsible for ensuring every client program is successful on a daily basis, including achieving the Key Performance Indicators (KPIs) that matter most. With a deep call center operations background, A.J. is a hands-on leader and has built his career on creating win-win-win relationships for his team, his clients and the owner-operated call centers he is responsible for. A.J. loves to keep score and he is proud of his team's scoreboard. A.J. knows that great leaders find a way to make sure their team wins. A.J can be reached at [email protected] or 516-656-5106.