By Angela Garfinkel, President
Author note: This is the third article in a 3-part series.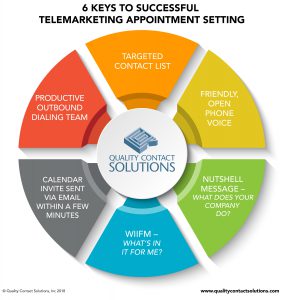 In Part 1, we discussed how to maximize the appointment kept rate when conducting telemarketing appointment setting. In addition, we introduced the 6 primary components of a successful telemarketing appointment setting program.
In Part 2, we discussed how to write an effective script that delivers a powerful nutshell message with a clear WIIFM (What's in it for me?).
All outbound telemarketing appointment setting professionals know that the third key component of success is the list that you are calling. In this 3rd part of this series on telemarketing appointment setting, I'll share my experience with curating the best outbound call list. Because our company primarily focuses on B2B appointment setting, I'll focus there. Continue reading →