Appointment setting is a key step in the sales process and converting leads into customers. However, it is time-consuming, particularly when handled by a sales team.
Many businesses look to call centers to handle this vital business process.
What Is Call Center Appointment Setting?
Call center appointment setting is gathering information about sales prospects, contacting them by phone, pre-qualifying them, and scheduling appointments for follow-up by a sales representative.
Working with a telemarketing company for appointment setting helps companies save time and money that would otherwise be spent by the internal sales team handling these efforts. In addition, outsourcing allows the sales team to focus better on closing deals and increasing sales conversions.
In this article, we're looking at five do's and don'ts for call center appointment setting.
5 Do's for Call Center Appointment Setting
1. Do Your Research
You'll want to have a good idea of who you are speaking with, their industry, and what you have to offer. Again, the internet is your friend here.
Also, try doing some research within your organization. For example, what services would best suit the prospect? Have you worked with clients in their industry before? These are good questions to ask as they can help you prepare anything you'd like to reference in your call, like a case study on how the service helped a past client in a similar industry.  
This preparation will pay off by ensuring you don't waste any time in your calling efforts.  
2. Remember Communication is Key
Don't forget to listen. It's easy to get so wrapped up in delivering what you have to say that you fail to hear and process what the other person is talking about and follow the flow of the conversation.
Yes, it would help if you came into a call as prepared as possible, but remember that the other person on the line doesn't know your script.  
Make sure to include answers to these questions in your conversations:
Who am I? Provide your name, the organization's name, and what they do. 

 

Who are you? You want to speak with the decision-maker. 

 

Is now a good time to talk? Being friendly and polite goes a long way in building trust. Ask if this is a good time to speak or if there's a better time to call back. 

 

What can I do for you? Discuss the client's needs and how your solutions can address them. And don't forget to ask questions about what challenges they face instead of assuming you already know all of them.
3. Prepare to Counter Objections
Not every prospect you call is going to be an easy sell. With call center appointment setting, you'll likely hear objections like "Sorry, I just don't have the bandwidth right now" or a quick "No, we're not interested." This is why it's essential to make the best use of your and the prospect's time.
Before making a call, consider common objections you've faced in the past and try to work these answers into the conversation before the prospect can. Having a list ahead of time will be very helpful to fight any initial doubt and prevent you from having to scramble for responses. Again, go for a proactive, not reactive, approach.  
4. Have a Well-written Script to Fall Back on
An effective call center script relieves a burden on agents and can even save training time. Furthermore, call scripts or guidelines address questions as accurately and quickly as possible.
Keep these best practices in mind:
Stay succinct and informative 

 

Have flexibility and account for questions 

 

Avoid rigidity and sounding robotic 

 

Test, evaluate, and iterate

Write your call center scripts to address your prospects' needs directly. Also, please keep in mind commonly asked questions and write to them accordingly.
5. Build a Rapport
Building rapport is an important factor for call center appointment setting to work. People want to feel like they're speaking with someone, and this initial conversation could define their impression of your organization.
You don't want to waste anyone's time but at the same time, try to remain conversational. If you go for too 'salesy' of an approach, they may be less likely to trust you.
The goal of the appointment-setting call isn't to sell directly. Instead, it's to schedule a meeting. Show genuine interest in your prospect and in helping to meet their business needs.
5 Don'ts for Call Center Appointment Setting
1. Don't Just Go With the Cheapest Option
If you're looking for a call center partner to manage your appointment setting, don't just go with the first option you find or the cheapest. Instead, vet multiple companies to find the best partner to meet your unique business needs.
Do your research and reach out to a handful of companies about their services and how much they would cost. It's also helpful to inquire if they've previously worked with clients in your industry and have any relevant testimonials or case studies to share.
2. Don't Be Too Pushy
Don't be pushy with prospective clients. This 'don't' speaks for itself. This can lead to a frustrated client who will not only not make an appointment but may go out of their way to share their negative experience with others.
Your success is based on the person on the other end of the phone being receptive. So it's important to know when you're not going to get anywhere and focus your efforts elsewhere.
3. Don't Sound Robotic
Using a script for your call center appointment setting is a helpful way to stay on track during a call, but it can sometimes sound too robotic or impersonal.
Write call center scripts that allow for some personalization and flexibility. Next, read them aloud to hear how they would sound to a potential client.
You can also try role-playing a conversation with another person. The best way to not sound robotic is to plan for customer responses and questions.
4. Don't Be Dishonest
Dishonest sales tactics may get you a step ahead in the short run but will only come back to damage your reputation in the end. We want to be convincing and discuss how we can help with their pain points. However, lying about or overselling your products or services leads to unhappy customers.  
Do listen to your customers' needs and identify how you can help them within the scope of your business operations and provide value.
5. Don't Forget About the Decision-makers
Don't try to pitch to the gatekeeper because there's no guarantee the gatekeeper will properly pass on your message to the decision-maker. However, the decision-maker usually won't be the first person to pick up the phone. So try not to spend too much time speaking to gatekeepers, like a receptionist or assistant, but don't be rude or dismissive.  
It's helpful to prepare ahead of time to know the name and position of the contact you're looking to reach and how you can assist. Company websites often have an 'About Us' or 'Meet the Team' page, which is a helpful place to start.  
Prior knowledge of the company's operations and structure will go a long way over the phone.
Trusted and Proven Call Center Appointment Setting Services
At Quality Contact Solutions, we know that generating a pipeline of new clients is crucial to reaching sales targets. Call center appointment setting is a common strategy to acquire these new clients.
The majority of businesses struggle with a shortage of resources and time. Working with a partner to set appointments helps them save money and time spent internally.
Regarding call center appointment setting, Quality Contact Solutions has a proven track record of success. Our skilled agents make the transition into the sales call as smoothly as possible by recording responses to particular questions prepared by you and our team of specialists.  
If you would like to receive a price quote customized to your specific business needs, give us a call at 1 (866) 963-2889 or click the button below to fill out our form.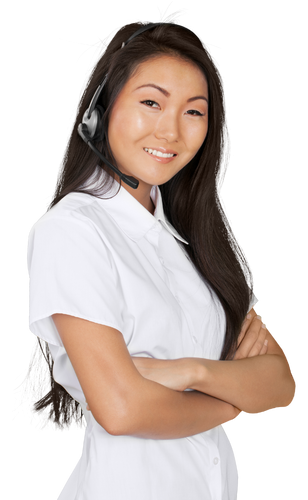 Call Center, BPO & Telemarketing Services
Set your teams up for success with a customized plan to fit your business needs.
Ashley Thusius is the Marketing Coordinator at Quality Contact Solutions. With a background in marketing and social media, Ashley enjoys sharing relevant information and making connections with our audience. Prior to joining QCS, she managed the marketing for a construction company serving customers in Alabama and Florida. You can reach Ashley at ashley.thusius@answernet.com.