Call center technology is evolving more quickly than ever before.   Let the Quality Contact Solutions team of technical consulting experts help you evaluate your current needs and recommend new solutions that will improve your results and return on investment.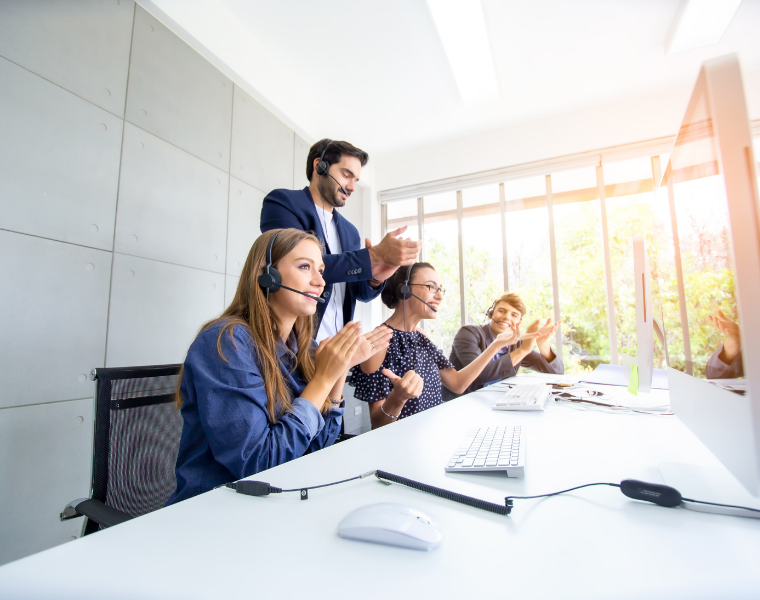 Our technical consulting team will conduct an evaluation of your current call center technology, including:
Auto Dialer, predictive dialer, or other phone dialer technology
The difference between an auto dialer (ATDS) and a manual dialer
The potential benefit of a hosted predictive dialer vs a premise-based predictive dialer
Caller ID for outbound telemarketing
CRM tools and integration with an automated dialer
Email tools and integration with the call center dialer
Management reports for performance management
Inbound contact center technology, including ACD, IVR, and related phone systems
Call recording and call monitoring solutions


Did you know?  If you call cell phones for telemarketing purposes, cell phones must be dialed using non-ATDS call center technology.  What does non-ATDS mean?  ATDS stands for Automated Telephone Dialing System.  Essentially, you must ask your technology provider to provide you a statement in writing that warrants and represents that the call center technology that you use to place calls is a non-ATDS.  Still have questions, give us a call.  We will provide you guidance and help you avoid a potential TCPA class action lawsuit.
Does your outbound telemarketing operation need a boost in performance?  One of the easiest, lowest-cost ways to improve outbound telemarketing performance is through the use of local CallerID phone numbers.  Most automated dialers and non-ATDS dialers have the capacity to push a phone number for outbound Caller ID.  Let our technical consulting experts help you devise a winning strategy for using Local Caller ID numbers to increase your answer rate.   Telemarketing is a numbers game.  Using Local CallerID numbers is proven to get more calls answered.  More calls answered per hour equals more contacts per hour.  More contacts per hour equals more sales per hour.  It's pretty simple.  Our team of technical consulting experts can help you devise a strategy that works best for your company.


Telecommunications
Our technical consulting professionals have decades of experience serving the call center technology and telecommunications industry. Our experience in services ranges from the large incumbents to smaller, competitive providers and from traditional TDM voice to VoIP, wifi and broadband. We have worked for end-users, carriers and backbone network providers utilizing diverse network protocols including SS7.
Our technical consulting professionals also have deep industry knowledge of key business functions, including network operations, customer service, billing, revenue assurance, business intelligence, financial reporting, and regulatory affairs. Additionally, we offer expertise in assisting executive management in determining, communicating, and implementing effective strategies to help their organizations achieve the desired goals of revenue growth and cost containment, which lead to improved profitability and financial stability.


Enterprise Telecommuncations, Network and Data Infrastructure Management
Technology Review – inventory of assets, contracts. Provide documentation
Oversight of existing IT staff – as well as expert resources to support existing IT staff.
Provide Emergency and project IT staffing.
Invoice Processing – All data and communication invoices to be reviewed monthly, including any dispute management and resolution with vendors.
Continuous evaluation of existing network infrastructure, data systems and telecommunication systems. We provide specific, actionable ideas that will create efficiencies and cut costs, which gives client companies an immediate ROI.
Project Management – From project assessment to project design and project implementation we ensure you're on the right technology track. Network infrastructure, data systems and telecommunications and just the beginning. We go the extra mile to ensure you get the best results at the lowest cost.


TELECOMCHECK™
Telecom services are among the most difficult to manage in any business. These services account for one of the five largest expenses a business will face. Vendors generate complex and confusing invoices that are severely outdated and prone to errors. Pricing and services change constantly, making it very difficult for companies to keep up with their least expensive options. Our TelecomCheck™ service ensures your company will avoid overpayments on telecom bills by providing effective management of network services billing.
All data and communication invoices to be reviewed monthly, including any dispute management and resolution with vendors.


REALITY CHECK™
We leverage all of our clients' telecom usage. Are you paying more then .015 per minute for interstate, billed 6/6. Are you under a contract? Do you have a term commitment? – Bottom line is that you should have spoken to us. The good news is that it is not too late. Call us right now!
Not sure if you're getting the best results from your telemarketing vendor?  Give our sales team a call today: 866-963-2889 to learn how your organization can benefit from a team of dedicated telemarketing professionals.