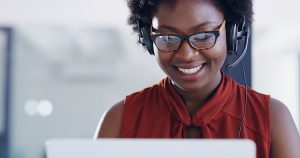 At QCS, existing customer upsell programs are our forte. We understand the delicate balance of maximizing the customer opportunity and the need for no complaints.
The process of upselling additional products and services to an existing customer base can be complex and needs to be handled with tact and care. Therefore, that's why it is a common practice for companies to look at outsourcing specific upsell opportunities to help achieve their sales goals.
Upselling to current customers has proven to be a productive and efficient way to increase average order size. However, promoting additional products and services through upselling to your customer base can also be very challenging. At Quality Contact Solutions we tend to find that internal sales organizations haven't been able to deliver expected results as they aren't fully equipped with proven techniques like an experienced B2B outsourced telemarketing organization is.
By partnering with QCS and our well-trained sales professionals, companies are able to leverage our successful experience with upselling while allowing internal teams to focus on maintaining their existing book of business, prospecting, and other organizational priorities.
Our experience has shown that upselling yields these benefits:
Improves customer loyalty
Builds relationships
Balanced growth between new and existing customers
Enhances company profits
Customer lifetime value increases
Increases customer satisfaction
Reduces churn rates
The fact is that customers want to stay with your company and will likely stay with what they like if they know what is available. For instance, there is already a prior relationship and established trust, which creates a great opportunity to upsell related products and services. Quality Contact Solutions is the conduit between your company and customers. We know that when upselling, we're giving customers the convenience of staying with what they like, which is your company, and the flexibility to choose what they need.
Here are some examples of our existing customer upsell experience:
Automotive
The QCS team of experts is responsible for contacting thousands of automotive dealership customers on a daily basis with a goal to set service appointments and increase revenue to the dealership.
Gas and Electric Utility
The QCS team has sold more than $30 million in monthly-recurring appliance and HVAC repair services to existing customers of gas and electric utilities. Customized training and call guides ensure that each call maximizes the value of the customer relationship and the moment of truth touchpoint.
Healthcare Information Services
The QCS team is responsible for calling a very large base of existing customers in the healthcare space. The market is business to business and includes physicians practices and other small to medium healthcare service providers. This team sells millions of dollars in billing and coding software and books on an annual basis. Extensive product and market training ensures that upsell and cross sell revenue is maximized on every call.
Healthcare Payments Industry
Healthcare providers are adopting new processes for getting reimbursed from the insurers One healthcare payments industry provider contracted with QCS for a high touch outbound telemarketing call to educate office managers and walk them through the new reimbursement payment options. Success is measured by the number of providers that successfully enroll in electronic payments on a monthly basis.
Safety and Trucking Compliance Manuals and Publishing Industry
Government regulations can be complex, particularly when it comes to safety compliance and trucking compliance. The QCS team has successfully placed thousands of compliance manuals for this client and a big part of the program's success is capitalizing on opportunities to cross sell or upsell.
Above all, we have the proven experience to run successful existing customer upsell campaigns. We tailor our services to each of our clients. Our unique approach allows us to apply our years of expertise to help achieve your short and long-term goals.
To schedule a call to learn more about our existing customer upsell services, click here.
Not sure the best way to select a telemarketing services company? Download our comprehensive guide today.
Want to speak with someone now? Give us a call today. 866-963-2889 option 1 for sales.